More information and footage Final Fantasy VII Remake
Posted by
Zidane007nl
on 11 June 2019, 22:18 -
0 comments
Last night Square Enix held their E3 2019 presentation where they promised to reveal more information about Final Fantasy VII Remake. Well, we got information, gameplay footage and an extended trailer.
Final Fantasy VII Remake is a re-imagining of the original game from 1997 and is the first game in the project taking place in the eclectic city of Midgar covered over two blu-ray disks. In the press release Square Enix also revealed the voice cast of the game.
Cloud, voiced by Cody Christian (All American, Teen Wolf)
Barret, voiced by John Eric Bentley (Transformers: Revenge of the Fallen, Independence Day: Resurgence)
Aerith, voiced by Briana White (Criminal Minds: Beyond Borders, Occupants)
Tifa, voiced by Britt Baron (GLOW)
Jessie, voiced by Erica Lindbeck (Spider-Man, Persona 5, ThunderCats Roar)
Biggs, voiced by Gideon Emery (Star Wars: The Clone Wars, Teen Wolf)
Wedge, voiced by Matt Jones (Breaking Bad)
Sephiroth, voiced by Tyler Hoechlin
After the information the battle system was explained. Final Fantasy VII Remake features a real-time battle system combined with strategic command-based combat. With the Square button the player can hack-a-slash their way through enemies. But there's a ATB gauge, which fills up when standard attacks are executed correctly. When the ATB bar is full the player enters Tactical Mode where they can perform abilities, cast spells or use items. Players can switch between characters and bound abilities and spells to shortcuts. When enemies are hit a Focus gauge fills up. When the gauge is full, the enemy is staggered and you'll deal bonus damage (like in Final Fantasy XIII).
After the introduction to the battle system footage was shown of Cloud and Barret fighting against Scorpion Sentinel (Guard Scorpion in the original).
At the Square Enix's E3 booth the demo of Final Fantasy VII Remake can be played. They didn't say which part of the game can be played.
At the end of the Final Fantasy VII Remake presentation the extended trailer was revealed to the public, which you can watch below. Various scenes are shown, like the motorbike chase and the detailed city of Midgar. Tifa's character design has finally been revealed in this trailer showing her with Marlene. At the end we also got a glimpse of Sephiroth in a flashback of Cloud.
Final Fantasy VII Remake will be available in three versions; Standard, Deluxe and 1st Class Edition.
The Deluxe Edition contains a hardback art book featuring stunning concept art, a Mini-Soundtrack CD, Summon Materia DLC allowing players to summon Cactuar in game, and a Sephiroth SteelBook Case. The Digital Deluxe Edition contains a digital art book, a digital Mini-Soundtrack, and Summon Materia DLC allowing players to summon Carbuncle and Cactuar in game.
The 1st Class Edition includes all Deluxe Edition content, the Carbuncle Summon Materia DLC, as well as a Play Arts Kai Cloud Strife and Hardy Daytona box set (bundled separately). This edition can only be ordered at the Square Enix Store for $329.99 / € 299.99 ! (yeah, that's a lot of money).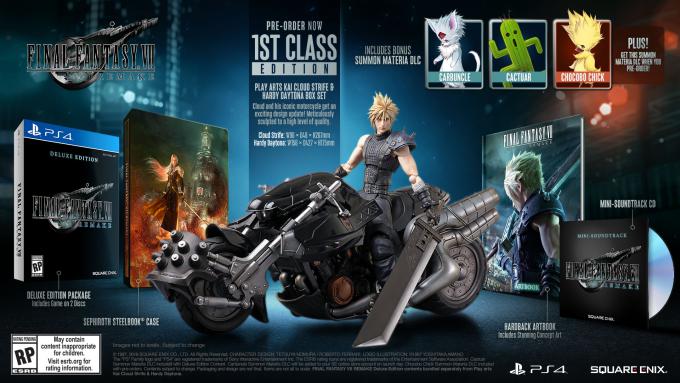 Click here to watch Square Enix Live E3 2019 presentation. Also check out the official website at ffvii-remake.com.