Merry Christmas and a Happy 2020!
Posted by
Zidane007nl
on 25 December 2019, 14:29 -
0 comments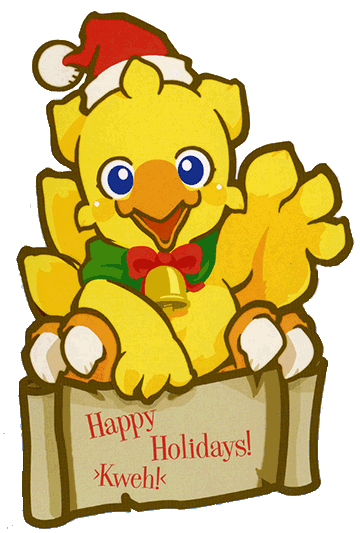 I want to wish everybody a Merry Christmas and a Happy 2020!
This year, 2019, started with the release of the long awaited Kingdom Hearts III. The game received positive reviews, however some fans were dissapointed that no Final Fantasy characters are in the game. Next month Re:Mind, the DLC episode, will be released, that will include Final Fantasy characters.
In March Final Fantasy XV: Episode Ardyn, the last DLC for Final Fantasy XV was released 2 years after the release of the game. Square Enix also released Chocobo's Mystery Dungeon: Every Buddy!, the remastered version of Final Fantasy Fables: Chocobo's Dungeon. In July Dragon Quest Builders 2 was released.
There was also some development with the Mana series. Square Enix released Collection of Mana which contains Final Fantasy Adventure, Secret of Mana and for the first-time available in the West Trials of Mana (formely known as Seiken Densetsu 3).
2019 was also the year that a lot of Final Fantasy games have been released on Xbox One and Nintendo Switch, like Final Fantasy VII, Final Fantasy IX, Final Fantasy X / Final Fantasy X-2 and Final Fantasy XII. One Final Fantasy was still missing, but in September the remastered version of Final Fantasy VIII was released.
There are several Square Enix games planned for released in 2020. Final Fantasy VII Remake being the game most looking forward to. Also a remake of Trails of Mana will be released in April and Final Fantasy Crystal Chronicles: Remastered Edition this Summer.
This year I didn't had enough time to update the website content and revive the community forums. In 2020 I don't see a lot of change in this I'm afraid.