Merry Christmas and a Happy 2019!
Posted by
Zidane007nl
on 25 December 2018, 15:38 -
0 comments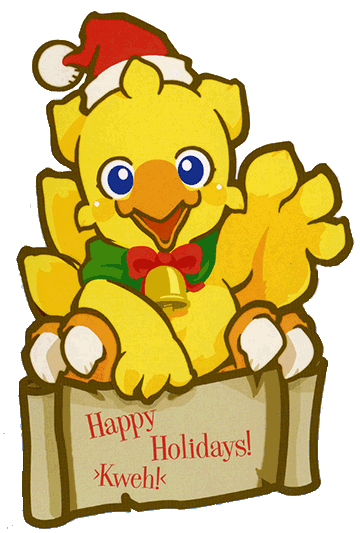 I want to wish everybody a Merry Christmas and a Happy 2019!
In 2018 Square Enix has not released many RPG's. In January we got Lost Sphear, the second game from Tokyo RPG Factory, and the console port of the arcade title Dissidia Final Fantasy called Dissidia Final Fantasy NT (I haven't played it much) which was received with mixed reviews. Also the sales were below expectations.
In February Square Enix released the remake of Secret of Mana. This version was received with mixed to bad reviews stating that the game seems to be rushed which results in numerous bugs from game freezes, crashes and other show-stopping bugs. Square Enix released a couple of patches to fix these problems.
In September Dragon Quest XI: Echoes of an Elusive Age was released worldwide. Multiple reviewers called the game the best in the Dragon Quest series. By November 2018 over four million copies were sold worldwide.
Other RPG'a that Square Enix has released this year are: Octopath Traveler, World of Final Fantasy Maxima and The Last Remnant Remastered.
Final Fantasy XV got several updates this year and Square Enix released the Royal Edition containing all DLC from the season pass. Also the pocket edition was released. However in November 2018 Square Enix has announced that in 2019 only Episode Ardyn will be released and the 3 other episodes have been cancelled. Hajime Tabata, director of Final Fantasy XV, has left the company.
What will 2019 bring us? In about one month Kingdom Hearts III will (finally) be released. Also Final Fantasy Crystal Chronicles and Chocobo's Mystery Dungeon: Every Buddy! will be released.
Will Square Enix release more information about Final Fantasy VII Remake next year? Let's hope so.
What about Hell and Heaven Net in 2019? Well, maybe the community forums will make its return and the website will be updated.