FF XIV: A Realm Reborn release date and CE!
Posted by
Zidane007nl
on 23 May 2013, 21:39 -
0 comments
Some of you might be waiting for this. Square Enix has officially announced that Final Fantasy XIV: A Realm Reborn will hit the stores on 27 August! Subscription fees will start at $12.99 in the United States, £7.69 in the United Kingdom and €10.99 in Europe.
When you pre-order the MMORPG you'll receive early access to the world of Eorzea, a Cait Sith Doll Minion and a Mog Cap as in-game item.
Square Enix has also announced something a little big more special, the Final Fantasy XIV: A Realm Reborn Collector's Edition.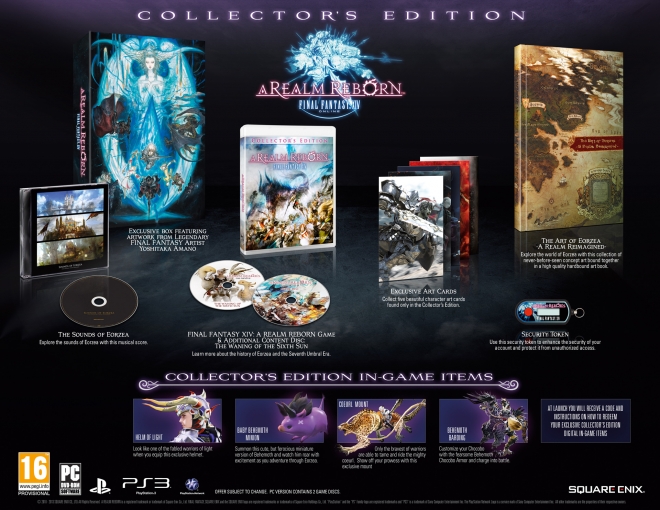 This collector's edition will contain an 80-page hardcover art book with concept art of the game, a bonus video disc that takes a cinematic look at the events leading up to the realm being reborn, an album that features musical scores by renowned Final Fantasy series composers, five art cards and a security token. You'll also receive the Helm of Light, Baby Behemoth Minion, Coeurl Mount and Behemoth Barding in-game items.
If you can't wait to play the game, you can still sign up for the Phase 3 Beta test that will start in June. This, a new Tour of Eorzeo video and more can be found on the official website.
Players who bought the original version of Final Fantasy XIV (that was released back in September 2010) do not have to buy the new version but can download it for free.